Accounting and Taxation
E-mail кафедри

h

ttp://kbo@

knute.edu.ua
The mission of the department - is the formation of a harmoniously developed personality – representative of the new generation of highly skilled competitive experts, who is able to to satisfy the information requests of a society and employers in order to provide the development of Ukraine's economy.
---
Department of Accounting and taxation (Head of the Department - Doctor of Economic Sciences, Professor О.Fomina) carries out training of specialists in the following specializations of the specialty «Accounting and taxation»:
Qualification
Аrea of knowledge
Specialty
Еducational program

07

Management and administration




071

Accounting and taxation

Accounting and taxation

Bachelor

Accounting and taxation

Master

Accounting and taxation

in international business

---

Accounting and tax consulting

Doctor of Philosophy

(Accredited with honors)
---
Graduates of SUTE can continue their postgraduate and doctoral studies (educational degree "Doctor of Philosophy" under the program "Accounting and taxation"). A comprehensive approach to the quality of education ensures the high competitiveness of our graduates in the labor market and appropriate initial conditions for professional career growth.
Also, the department provides training for students on the programs Advanced training of the Institute of higher qualification.
The teaching staff of the Department of Accounting and Taxation is formed by highly educated specialists, who have Ph.D. and Doctor of Economics degree, considerable practical and scientific work experience, which enables them to effectively manage students' scientific work, to perform a considerable amount of teaching and methodological work, etc. Teachers of the department are guided by world standards in their work on training specialists, they actively working on enriching the content of academic disciplines, the introduction of innovative technologies, provide an organic combination of fundamental, general economic and professional training of students, the harmonization of the educational process, which allows future specialists to form a wide worldview, to get a solid knowledge of professionally oriented disciplines and to master the chosen profession.
Modern teaching technologies are used in the process of training for higher education graduates specializing in Accounting and Taxation, in particular: problem lectures with video materials; viewing educational films with a teacher's commentary; solving analytical and computational problems and case studies, (including using computer programs); computer simulation exercises; business games; video materials from various managerial disciplines; educational excursions and visiting practical classes at modern enterprises; performing exercises using the "Basket-method" technology; testing to assess the level of professional skills and abilities.
The great attention to the quality of the training of higher education graduates in the specialty "Accounting and taxation" ensures the gradual entry into the European educational space, the conditions of which are formulated in the Bologna Declaration:
- quality control of education;
- expanding student mobility (he opportunity to get education consistently in several different universities, enriched with the experience of life in various socio-cultural environments);
- employment of graduates.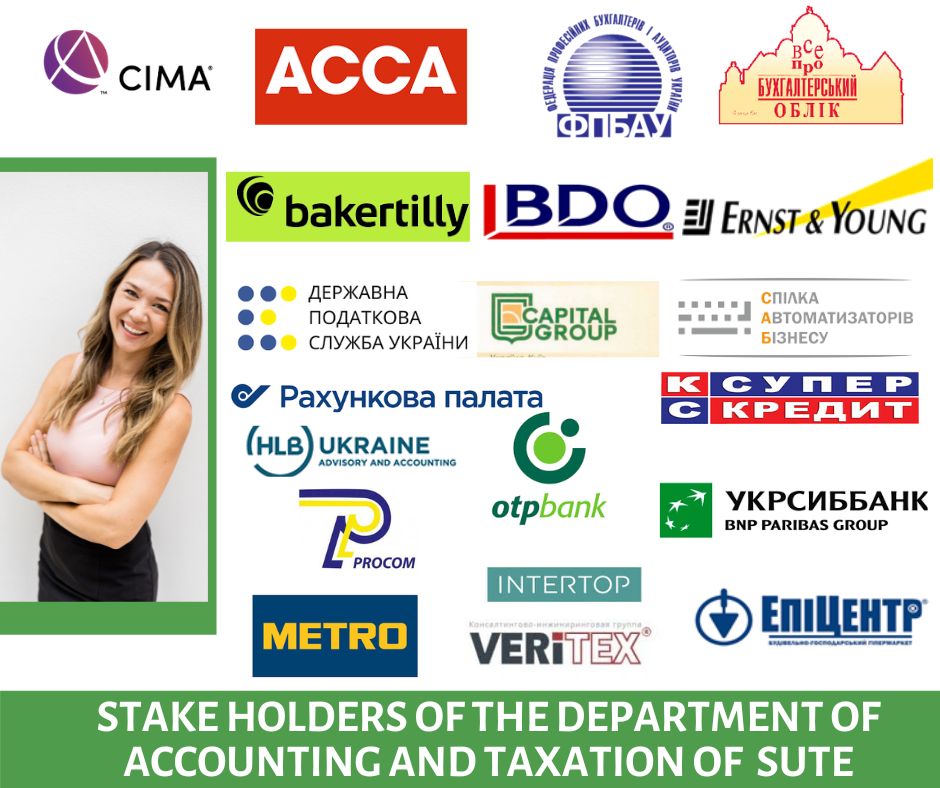 ---

4914
остання редакція 12.05.2023

42708