General Information
Quality Management System in Kyiv National University of Trade and Economics
---
Quality management system in KNUTE, a vital constituent of which is the system of education activity and higher education quality assurance, became the first one among other Ukraine's higher education institutions to be certified as the one that meets the requirements of the ISO 9001:2015 international standard.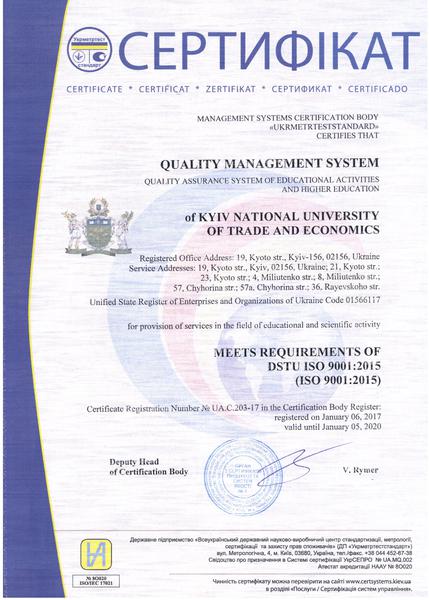 Ukraine's higher education development strategy is premised on the use of European principles and approaches to meeting the needs of potential educational services consumers. Therefore, in order to complete these tasks, Kyiv National University of Trade and Economics has implemented the experiences of the best examples and models of higher education developed on the basis of international standards.
In recent years we have upgraded the KNUTE quality management system (effective from 2009): the requirements of the ISO 9001:2015 international standard, the Law of Ukraine on Higher Education as well as standards and recommendations on higher education quality assurance within the European community have been integrated into a unified system; in order to implement the provisions of the standards and in accordance with the tendencies in modern education, the University's employees have been working diligently on developing modern curricula, learning materials, improving qualification of the teaching staff.
Our big achievement is development of KNUTE internal higher education standards in all specialties and specializations in the first, second and third degrees of higher education in compliance with the National Frame of Qualifications, which consist of the following chapters: educational programme; curriculum; requirements to existence of higher education internal quality assurance system; requirements of professional standard (in case of their existence); additional requirements (if necessary); procedure of development and implementation of an educational programme; preparation to educational programme accreditation, peculiarities of foreign language programmes development; list of regulatory documents on which the higher education standard is based.

6326
остання редакція 17.08.2020

433884