Accounting and Taxation
E-mail кафедри

h

ttp://kbo@

knute.edu.ua
The aim of the department is to form a harmoniously developed personality i.e. the representative of a new generation of highly qualified specialists, who is able to satisfy the informational requests of society and employers in order to ensure the development of Ukraine's economy.
Department of Accounting and Taxation (Head of the Department - Doctor of Sciences (Economics), Professor О.Fomina) carries out training of specialists in the following subject area «Accounting and taxation»:
Study level
Field of study
Subject area
Core courses

Associate Bachelort's

degree

07

Management and administration




071

Accounting and taxation

Accounting and taxation

Bachelor

's

degree

Accounting, taxation and audit

Master

's degree

Accounting and taxation

in international business

---

Accounting and tax consulting

Doctoral research degree

(Accredited with honors)
---
Also, the Department provides training for students on the program "Advanced training of the Institute of higher qualification".
The academic staff of the Department of Accounting and Taxation is formed of highly educated specialists, who have Ph.D. and Doctor of Sciences (Economics) degrees, considerable practical and scientific work experience, which enables them to effectively manage students' scientific work, to perform a considerable amount of teaching and methodological work, etc. Academics of the department are guided by world standards in their work on training specialists, they actively work on enriching the content of academic disciplines, the introduction of innovative technologies, provide an organic combination of fundamental, general economic and professional training of students, the harmonization of the educational process, which allows future specialists to form a wide worldview, to get a solid knowledge of professionally oriented cources and to master the chosen profession.
The main principles of the Department of Accounting and Taxation are
- quality control of education;
- use of modern learning technologies;
- expanding student mobility (the opportunity to get education consistently in several different universities, enriched with the experience of life in various socio-cultural environments);
- employment of graduates.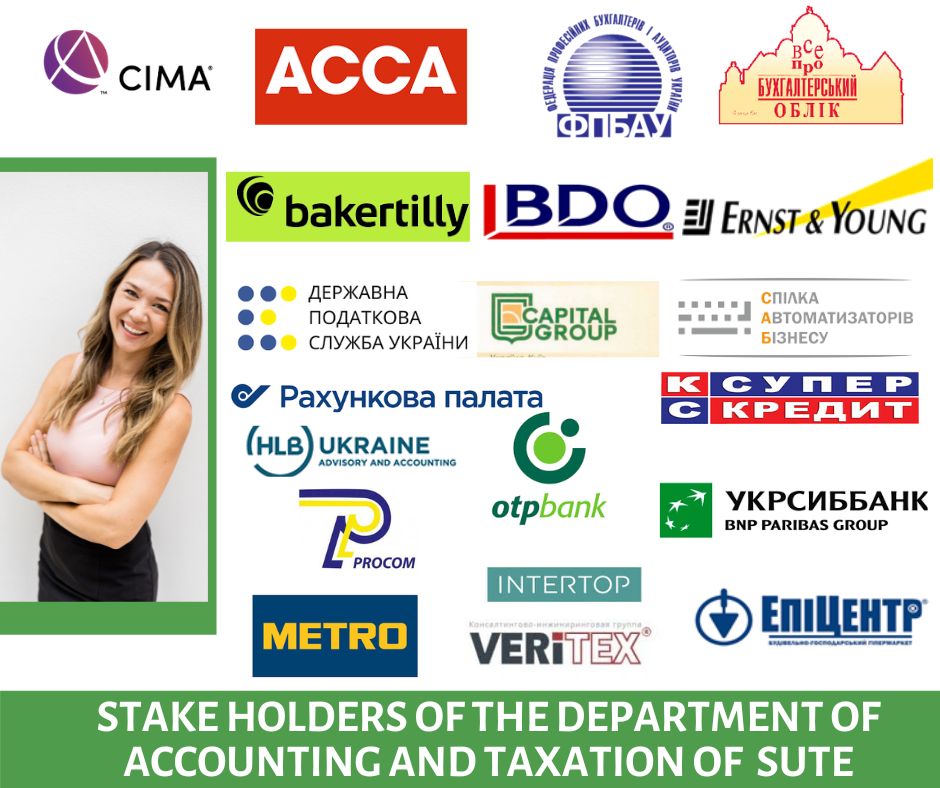 ---

5048
остання редакція 05.06.2023

42708