of Hotel and Restaurant Business
Accreditation of the Educational programme "Hotel and Restaurant Business"
Dear students, colleagues, stakeholders, academic staff of the Department of Hotel and Restaurant Business! We sincerely thank you for participating in the formation and development of the educational programme "Hotel and Restaurant Business" of Initial (Short) Cycle!
The accreditation of this program began on February, 23, 2022 and the next day russia's war against our beautiful Ukraine began.
We continued the accreditation process a year later, thanks to the Armed Forces of Ukraine!
We thank the expert group of the National Agency for Higher Education Quality Assurance Liudmyla Tranchenko, Yuliia Zemlinii and Karina Vlasiuk for their professional expertise!
Thanks to everyone who was involved! We are proud that we have become the first in Ukraine to receive accreditation of Initial (Short) Cycle with perfect result!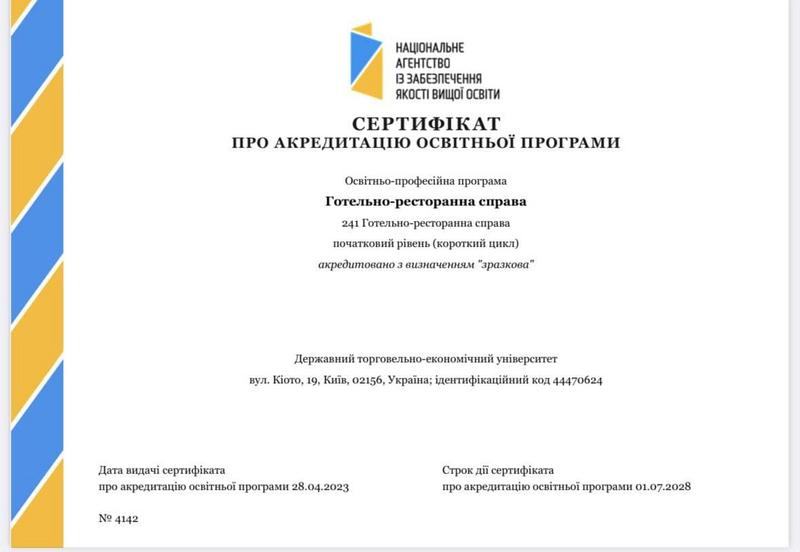 ---

Students and teachers of the Faculty of Restaurant, Hotel and Tourism Business participating in Ukrainian Gastro Show 2023
On April 24, 2023, the lecturers and students of the Faculty of Restaurant, Hotel and Tourism Business were invited to participate in Ukrainian Gastro Show 2023; its main theme was "ROOTS. THE POWER OF UKRAINIAN UNITY".
The program of the event included lectures and master classes by chefs, restaurateurs, researchers of Ukrainian cuisine and gastronomists. The participants learned about research on forgotten Ukrainian foods and grains, ways to preserve local seasonal products, ideas for open-fire cuisine, trends and existing challenges for restaurants in wartime.
Lectures and master classes of Oleksii Voloshyn, Khrystyna Fedochynska, Oleksii Povtoreiko, Ihor Lavreshyn, Nika Lozovska, Yuliia Pitenko, Yevhen Klopotenko and Johnny Clark were extremely for the students.
Kateryna Gurova, 1st year 2m student: "The event was a good experience. It was interesting to listen to the speakers and learn a lot of new things. The atmosphere was great. I am grateful for the positive impressions and emotions I received."
Yuliia Antoniuk, 1st year 2m student: "I really liked the event. It was interesting and informative! I am grateful to the lecturers of the Department for the opportunity!"
Kateryna Lugova, 1st year student, 2m: "Ukrainian Gastro Show was an unforgettable experience for me, which filled me with new emotions, tastes and inspired me to do culinary experiments! I was especially impressed by Yevhen Klopotenko's speech about the emotions of Ukrainian food, which encouraged me to explore and discover new flavors of my native cuisine. Johnny Clark, an American chef with Ukrainian roots, has showed me that our Ukrainian cuisine has a huge potential in the world. It is a motivating event that convinces me that Ukrainian cuisine is a treasure that needs to be preserved and developed. I am very grateful to my alma mater for the opportunity to attend such an event. I look forward to new culinary adventures!"
We are sincerely grateful to the organizers of Ukrainian Gastro Show 2023 for this useful event in such a difficult time for our country.
---

Hospitality and tourism research is in our students' focus!
On April 10-12, our creative students took part in Black Sea Science 2023 International Student Research Competition organized by Odesa National Technological University in the area of Tourism and Hospitality Business.
These startups were presented:
TRAVEL APP START UP "TOURISME"
Developers: Маryna Muraviova, Viktoriia Maziar
Director: Allа Rasulova
Boomticket (app)
Developer: Vladyslav Pavliuk
Director: Liudmyla Bovsh
"UNxiety" App
Developer: Tytenko Amaliia, Skrypnik Dariia, Borodavko Yelyzaveta
Dirеctr: Оlha Salimon
We are proud of you! Your achievements are for the benefit of restoring our beautiful Ukraine!
We thank the Armed Forces of Ukraine soldiers for the opportunity to study and teach!

1544
остання редакція 25.09.2023

43059