of International Management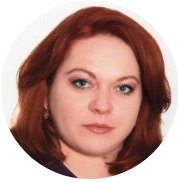 KATERYNA FOKINA-MEZENTSEVA
Doctor of Sciences in Economics,
Professor of the Department of International Management
k.fokina-mezentseva@knute.edu.ua
She graduated from Donetsk State Academy of Management with a major in Foreign Economic Activity Management. She received her second higher education at the Interregional Academy of Personnel Management and received a law degree.
In 2011 she defended the dissertation for the Candidate of Economic Sciences degree on the topic "Regulation of Regional Development in the Formation of Border Cooperation" in the specialty 08.00.05 - Development of Productive Forces and Regional Economy.
In 2019 she defended the dissertation for a Doctor of Economics degree on "Formation of a corporate culture of industrial enterprises: theory, methodology, practice" in the specialty 08.00.04 - Economics and Management of Enterprises (by types of economic activity).
Since 2005 she started teaching, which she successfully combined with practical work. She held the positions of Deputy Director of Foreign Economic Relations and Tourism, Deputy Director of the plant.
Sphere of scientific interests: globalization processes in economy, problems of foreign economic activity of enterprises in a turbulent environment.
Scientific papers and publications. The total number of works is more than 80, of which 16 monographs (2 singles, 2 collective in English), the textbook "Economics of transnational corporations" (co-authored). Publications in Scopus science databases, Web of Science.
Teaches subjects: Foreign economic activity of the enterprise
More information about the teacher's publications can be found at:
Google Scholar
Web of Science
ORCID
Scopus

77
остання редакція 06.03.2023

43339